FULL TITANIUM
FOR WEIGHT REDUCTION
& POWER GAINS.

To truly enjoy the FA20 is to extract the most from it in NA form. So maximum weight reduction is an essential part of it. This product is specifically designed for competition use. With the absence of a catalytic converter, the pipes made from Titanium, this drastically reduces the overall weight to compliment the power gains.
When fitted to a car that has a forced induction setup, it greatly enhances the performance gains with the improved exhaust flow efficiency. This is one of the key products to extract the performance potential of the 86/BRZ/FR-S.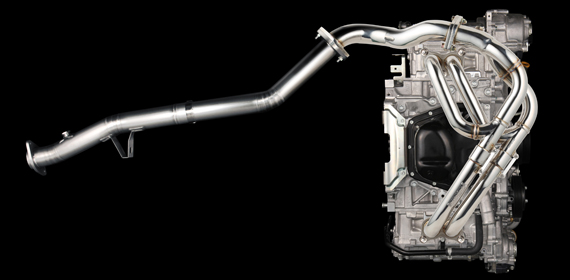 APPLICATION:86/BRZ(JDM/USDM)/FR-S FA20 6M/T
Not applicable for A/T vehicles

| | | |
| --- | --- | --- |
| | PART No. | MSRP |
| TYPE-60 | TB6100-SB03A | $590.00 (USD) |
| TYPE-80 | TB6100-SB03B | $590.00 (USD) |
※ Designed for Competition Use only
KIT CONTENTS
STRAIGHT MAIN PIPE F (1)
STRAIGHT MAIN PIPE R (1)
GASKET F (1)
GASKET R※ (1)
FLANGE BOLT※ (2)

FLANGE NUT※ (2)
CLAMP BAND (1)
A/F SENSOR PLUG (1)
COPPER WASHER (1)
BOLT SMOOTH PASTE (1)
※TYPE-80 ONLY
INCLUDED ACCESSORIES

The kit comes included with all gaskets, bolts & nuts required for the installation.
We've even included a tube of bolt smooth paste to prevent bolt seizures due to heat.
SPECIFICATIONS COMPARISON VS STOCK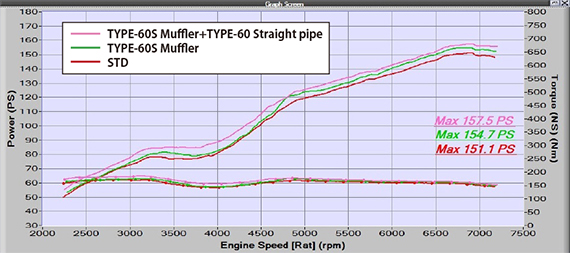 MATERIAL
PIPE DIA.
(Φ)
PIPE THICKNESS
(mm)
FLANGE THICKNESS
(mm)
WEIGHT
(kg)
PIPE
FLANGE
F
R
TYPE-80
TITANIUM
TITANIUM
60.5-80.0
1.0
8.0
8.0
1.6
TYPE-60
60.5
1.4
STD
―
―
1.5
10.0
8.0
5.5

FEATURES
※The TYPE-80 attaches to mufflers that have a flat gasket and/or flange.
Precision lightweight Titanium flange.
TYPE-60 features a Φ60.5 diameter throughout.
TYPE-80 features a tapered diameter. Starting at Φ60.5 and ending at Φ80.0, the increased capacity is ideal for high performance tuning.
The TYPE-60 utilizes the same round Φ60.5 diameter flange design as the stock item.
The TYPE-80 utilizes a flat Φ80.0 diameter flange and can be paired with the EXPREME TI TITANIUM MUFFLER TYPE-80 for optimal performance.
2 section pipe layout for ease of installation and a Mikalor damp band.

Lightweight Titanium is used.
With a base plate to distributes stress.
| | | |
| --- | --- | --- |
| Comes equipped with an A/F sensor boss for convenience when tuning. | | |
Other exhaust related parts for the 86/FR-S/BRZ
EXPREME Ti TITANIUM MUFFLER
| | |
| --- | --- |
| | |
| EQUAL LENGTH EXHAUST MANIFOLD | UNEQUAL LENGTH EXHAUST MANIFOLD |