4G63 METAL ENGINE ORNAMENT PLATE
| | | | |
| --- | --- | --- | --- |
| | | The stainless steel pressed design made is the best way to complete your engine bay to compliment your high spec engine. With the background especially treated to make the "TOMEI THE ENGINE SPECIALIST" logo stand out even more. | |

Application

Part No.

MSRP

CN9A/CP9A/CT9A

TE101A-MT01B

$150.00
(USD)
KIT CONTENTSF
Plate x 1 / Bolt M6-35 P=1.0 x 4 / Washer 6.5 x 12 T=1.0 x 4
– Excluding August 1996 to September 1996 CN9A models. If you want to use it on these models you can by using the head covers from models after September 1996.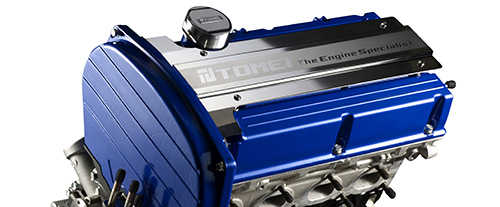 This ornament plate is designed not for just appearance but to also allow the 4G63 ignition coils to vent heat from the raised plate fitment. This cooling gap helps prevent failures that the coils can face from heat saturation. Another point is that this will help prevent the rain from falling directly over the coils if the bonnet has a vent directly over the coils.