| | | | |
| --- | --- | --- | --- |
| | MITSUBISHI 4G63-22 Kit/Conrod Bearing Bundle Package | | |

 Bore (Φ)

Φ85.5

Φ86.0

STD Φ85.0

 Stroke (mm)

94.0

STD  88.0

 Displacement (cc)

2158

2183

STD 1997

 Piston Crown Volume(cc)

20.5

―
THE SUPER RESPONSIVE CRANKSHAFT, FOR HIGH RPM!
THE TRUE COMPETITION KIT!!


Application

Bore

Part No.

MSRP
(USD)

Part No.
With Conrod Bearings
Bundle Pack.

MSRP (USD)

EVO I -
EVO IX

Φ85.5
221040

223022

Φ86.0
221041
223023
| | | | |
| --- | --- | --- | --- |
| | MITSUBISHI 4G63-23 Kit/Conrod Bearing Bundle Package | | |

Now includes a new billet crankshaft featuring
a superior balance design

This new crankshaft improves upon the previous model
with even better balance and performance
Feel the plentiful torque that a 2.3 liter engine produces over the stock displacement and dominate the competition at any given condition! Having a torque advantage creates a feeling of almightiness as well as enhanced drivability, and adds much more sporty characteristic to the vehicle. This stroker kit can be used in conjunction with a larger turbocharger if even more power is the objective.
■Displacement Comparison

Piston Size

Normal

4G63-22

4G63-23

Φ85.5
2020cc
2158cc
2295cc
Φ86.0
2044cc
2183cc
2323cc
■Compression Comparison

Product

Piston Size

Compression Ratio(Gasket Sizes)

4G63-23

t-1.2mm

t-1.5mm

t-1.8mm

4G63-23
Φ85.5
9.2
9.1
8.9
8.7
Φ86.5
Φ86.0
9.3
9.2
9.0
8.8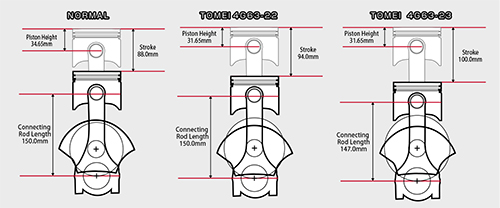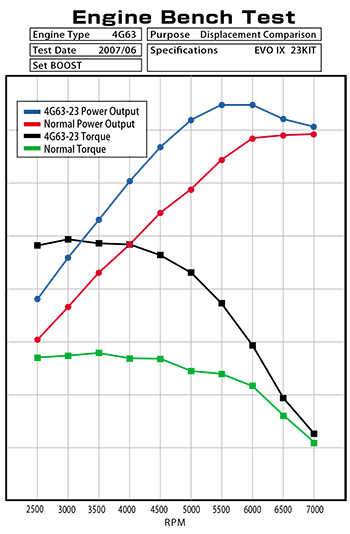 Application

Bore

Part No.

MSRP (USD)

Part No.
With Conrod Bearings
Bundle Pack.

MSRP (USD)

EVO I -
EVO IX

Φ85.5
252002


250016

Φ86.0
252003
250017