@

@@@@œAmazing Torque
@@@œAmazing Response
@@œHeat Resistance
@œUnmatched Durability
œMinimal Maintenance
@

T-TRAX ADVANCE has several advantages over similar products from other manufacturers. It features optimized cam angles, spring discs, larger surface area clutch discs and a higher initial torque setting. These all translate to improved corner entry, more precise driving, better corner exit traction as well as quicker response through successive corners. T-TRAX ADVANCE offers superior performance in every way.
@

1.5 WAY
| | |
| --- | --- |
| | 1.5 WAY The differential provides more lock during acceleration and less so during deceleration. During braking, this allows for a more natural feel to the handling. |
@
2 WAY
| | |
| --- | --- |
| | 2 WAY The differential provides a strong lock both on acceleration and deceleration. This is especially good for drifting, allowing you greater control of the car with the accelerator. |
@

| | |
| --- | --- |
| | More quieter and improved transmission efficiency with Tomeis " ADVANCE DISC". The friction quality changed with the new surface finish. Smoother operations and more stable behavioral changes with either being ON or OFF the throttle. There is no loud LSD crackling sounds and therfore making it more comfortable for the daily street driven car. |
@

The bulk clutch which makes the torque of the engine transmit efficiently is the main benefit for the LSD role in order to correspond with engine tuning. The T-TRAX ADVANCE Nissan 350Z (Z33) models friction clutch areas 127cm2 per disc, the effective friction area is 1274cm2 ( 63.7~10 surface area ~2), clearly unmatched by any other maker.

| | |
| --- | --- |
| œFriction Disc Size | (UnitsF mm) |

@

Friction
Disc A (Ext Teeth)

Friction
Disc B (In Teeth)

Size

a

b

t

a

b

t

L

106

57

1.7

106

54

1.7

M

93

51

1.7

93

48

1.7

S

85

47

1.6

85

46

1.6

SS

81

47

1.6

81

46

1.6
@

Using a total of 24 friction discs (double the standard amount) offers a more uniform torque transmission for improved control.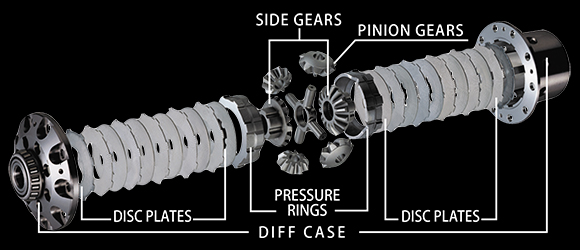 @

In order in increase the amount of friction discs possible, the T-Trax models adopted the use of the coil spring disc. This helped with the more compact design and increasing the overall initial torque possible in mechanical LSD. In addition this unique design spring disc shows with continuous severe driving conditions, this has outlasted any previous designs with T-Trax unsurpassed durability.

@

Previously all car models required the exchange of both the side flanges when upgrading the LSD unit. But with T-TRAX ADVANCE it is now possible to use the original factory side flange. Of course there is no decrease in quality, efficiency or performance but it helps with bring down the costs of upgrading your diff. (with the exception of some models the side flanges still have to be exchanged on certain models). Our aim was to increase performance while trying to give the end user best value for money.
@

| | |
| --- | --- |
| | Extreme driving as well as high initial torque puts additional loads and stresses on the LSD case. This can sometimes cause warping, leading to reduced performance. However, this LSD case has been designed to withstand this with ease and prevents this from happening. |
@
| | |
| --- | --- |
| | T-TRAX ADVANCE kit comes with everything required for each application. T-TRAX special diff oil, carrier cover gaskets, bearings and oil seals are included which are required when upgrading the diff for the majority of the Nissan line-up. |
| @ | |
---
---
Click on the photos to view a larger image.
Copyright (C) 2005 TOMEI POWERD,Inc. All Rights Reserved.
@