Maximum Weight Reduction,
Optimum Performance, Catless Design


To truly enjoy the 370Z/350Z is to extract the most from it in NA form. So maximum weight reduction is an essential part of it. This product is specifically designed for competition use. With the absence of a catalytic converter, the pipes made from Titanium, this drastically reduces the overall weight to compliment the power gains.When fitted to a car that has a forced induction setup, it greatly enhances the performance gains with the improved exhaust flow efficiency.
This is one of the key products to extract the performance potential of the 370Z/350Z.


APPLICATION
PART NUMBER
MSRP(USD)
350Z
2003-2004 VQ35DE
TB6100-NS04A
$890.00
2005-2006 VQ35DE Rev Up
G35
2002-2007 VQ35DE
350Z
2007-2009 VQ35HR
TB6100-NS02A
370Z
2009- VQ37VHR
※ Designed for Competition Use only
KIT CONTENTS
STRAIGHT PIPE RH (1)

STRAIGHT PIPE LH (1)

F GASKET (2)
R GASKET (2)
COPPER WASHER
A/F SENSOR PLUG (2)

FLANGE BOLT M10 *L=35mm*P=1.25mm (8)

FLANGE NUT M10 P=1.25mm (10)
FLANGE BOLT M10 *L=20mm*P=1.25mm (2)
BOLT SMOOTH PASTE (1)
COMPLETE KIT

The kit comes complete with bolts, nuts, and even bolt smooth paste to help prevent heat problems with the bolts. So everything is included to direct bolt on straight from the box.

SPECIFICATIONS COMPARISON VS STOCK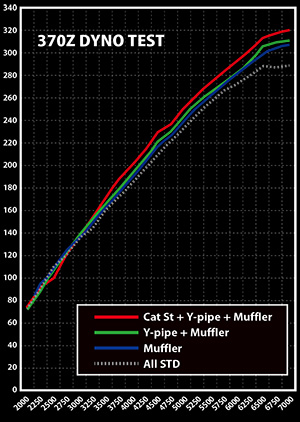 MATERIAL
PIPE
DIA.
(Φ)
PIPE THICKNESS
(mm)
FLANGE THICKNESS
(mm)
WEIGHT
(lbs/kg)
PIPE
FLANGE
F
R
TOMEI
TITANIUM
TITANIUM
60.5
1.0
8.0
8.0
3.09/1.4
STD
VQ37VHR
SUS
SUS
F:60.5 R:54.0
UNKNOWN
8.0
8.0
19.84/9.0
VQ35DE
SUS
SUS
F:54.0 R:54.0
F:20 R1.5
12.0
8.0
26.9/12.2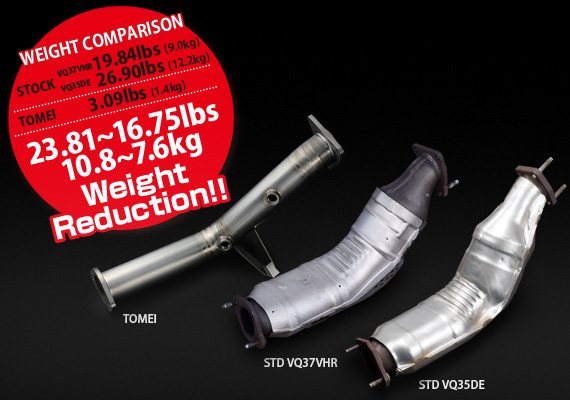 FEATURES
Precision lightweight Titanium flange
| | | |
| --- | --- | --- |
| Lightweight Titanium bracket | | Comes equipped with an A/F seisor boss for convenience when tuning. |